About Us
Your experts for chinese interior and decoration
Furniture, Custom Furniture, Restorations & Accessories
The Yajutang furniture GmbH is characterized by a passion for authentic furniture and Chinese interior design style.
Thanks to our own furniture manufactory in Beijing, we are able to produce quality furniture at top prices, to restore antiques expertly and to deliver tailor-made products according to your specific requirements.
An impressive showroom in a central location in Dusseldorf and typical Asian well-being service also ensure a perfect shopping experience.
We have been supplying national and international customers since the opening of the first shop in Neuss in 2008. Since the beginning of 2014 you can find us in Düsseldorf and you are cordially invited to visit our continuously updated exhibition. A selection of our products can be found here in our online shop.
History Yajutang
In 1999, the Yajutang furniture factory was founded in Bejing (Beijing) to produce authentic Chinese furniture and restore antique pieces.
In 2008, a co-founder of the Beijing company, Ms. Jun Duan, moved to Germany. In the same year she started Yajutang Möbel GmbH and opened a small shop on Friedrichstraße in Neuss.
All offered furniture - including tailor-made to customer specifications - are still from the manufactory in Beijing and are shipped to Germany approximately every 6-8 weeks.
In the following years, the product range was continuously expanded to include figures and statues, stoneware, textiles, pictures and accessories. At the beginning of 2014, the location was relocated to Düsseldorf. For the beginning of 2019 the new move to larger premises is planned.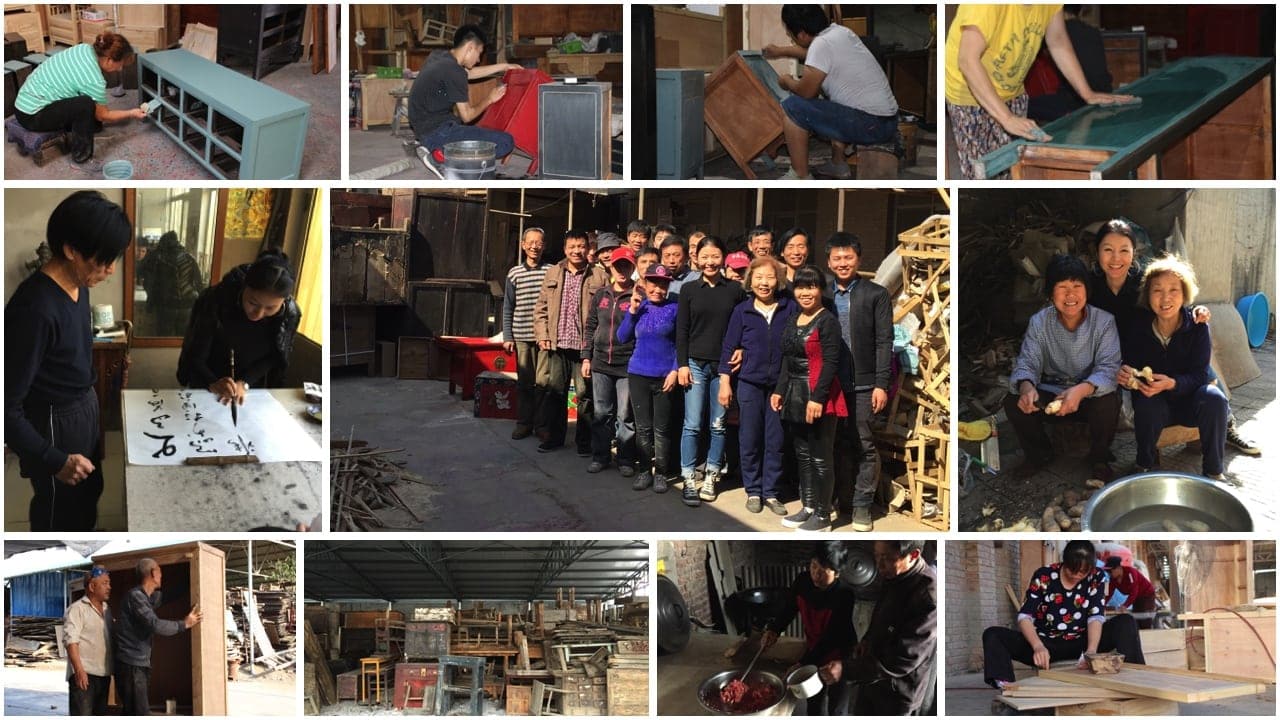 Our showroom
There is hardly anything that better reflects a person's personality than the decor of his home. For this reason, we cordially invite you to get a very personal picture of the furniture and furnishing accessories.
Visit our showroom in Dusseldorf Reisholz to discover what suits you and your home perfectly! Study fine handicrafts, feel the grain of precious woods and be spontaneously inspired or knowledgeable.
On an area of around 400 square meters, our product portfolio is optimally experienced.
Custom made furniture
Treat yourself to a real unique! Our alternative to off-the-shelf furniture is custom-made furniture.
Thanks to our own production facility in Beijing, from which (almost) all our furniture comes from, we are able to realize individual customer wishes and to produce tailor-made pieces of furniture. And surprisingly inexpensive.
Based on a sketch, the photograph of a reference object or an inspiration that spontaneously results when visiting our shop, we produce your custom-made furniture according to your individual wishes especially for you. Unique furniture as a highlight for your home or apartment.
Talk to us - we will be happy to assist you on the way to your dream piece of furniture.
Delivery service
The supply of furniture is a matter of trust. Therefore, we deliver exclusively with forwarders up to curb, the reliability of which we could convince ourselves during many years of cooperation thousandfold.
As a special service, we also offer you our own delivery service for bulky goods to your home in a radius of up to 100 km. This is (still) more convenient and uncomplicated for our customers, often faster and without additional costs.