Practical and beautiful!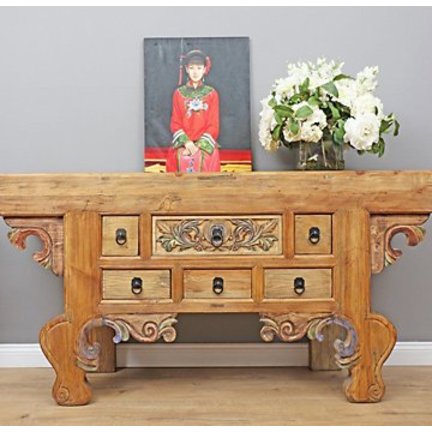 A Chinese sideboard / lowboard as an eye-catcher for office, living room, hall and kitchen
We tend to offer wide-format sideboards and lowboards made of solid wood as a reproduction based on classic models as well as genuine antique pieces. Both variants captivate with their practical use as a storage wonder and visual appeal. Sideboards with individual dimensions are no problem thanks to our own production facility!
Applications Sideboards / Lowboards
Hifi Furniture
Cutlery / crockery cupboard
linen closet
file cabinet
u.v.m.
€ 799,-*

* Incl. tax Excl. Shipping costs

Compare

€ 1.299,-*

* Incl. tax Excl. Shipping costs

Compare

€ 799,-*

* Incl. tax Excl. Shipping costs

Compare

€ 1.599,-*

* Incl. tax Excl. Shipping costs

Compare

€ 1.599,-*

* Incl. tax Excl. Shipping costs

Compare

€ 999,-*

* Incl. tax Excl. Shipping costs

Compare

€ 1.499,-*

* Incl. tax Excl. Shipping costs

Compare

€ 1.199,-*

* Incl. tax Excl. Shipping costs

Compare

€ 1.299,-*

* Incl. tax Excl. Shipping costs

Compare

€ 699,-*

* Incl. tax Excl. Shipping costs

Compare

10% discount code: GET10 for pickup in store
Showroom in Düsseldorf
Custom furniture made to measure

€ 999,-*

* Incl. tax Excl. Shipping costs

Compare

€ 1.199,-*

* Incl. tax Excl. Shipping costs

Compare

€ 1.299,-*

* Incl. tax Excl. Shipping costs

Compare

€ 1.599,-*

* Incl. tax Excl. Shipping costs

Compare

€ 1.199,-*

* Incl. tax Excl. Shipping costs

Compare

€ 1.099,-*

* Incl. tax Excl. Shipping costs

Compare

€ 1.599,-*

* Incl. tax Excl. Shipping costs

Compare

€ 1.099,-*

* Incl. tax Excl. Shipping costs

Compare

€ 1.099,-*

* Incl. tax Excl. Shipping costs

Compare

€ 1.299,-*

* Incl. tax Excl. Shipping costs

Compare

€ 1.299,-*

* Incl. tax Excl. Shipping costs

Compare

€ 1.299,-*

* Incl. tax Excl. Shipping costs

Compare