Furniture and Style Classic: The Chinese Wedding Cabinet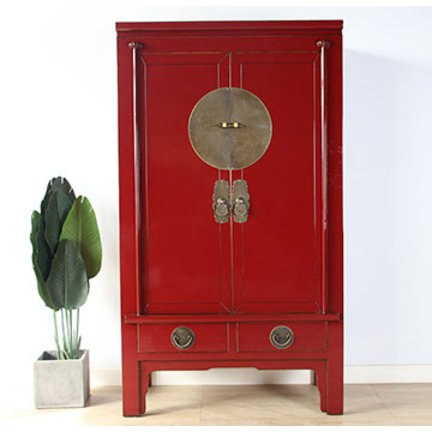 Chinese wedding cupboard - the furniture classic in white & black, colorful & colorful, decorated & simple, antique and new ...
The Yajutang furniture GmbH in Dusseldorf distributes Hinesische wedding cabinets from own production. As a solid wood reproduction or restoration of original antiques. On request, also as a custom made to your individual request. <
The Chinese wedding cabinet is a classic and available in many variants and versions.
Features
Many trendy colors
Special painting technique
Various fittings
used / vintage / shabby look
€ 999,-*

* Incl. tax Excl. Shipping costs

Compare

€ 999,-*

* Incl. tax Excl. Shipping costs

Compare

€ 999,-*

* Incl. tax Excl. Shipping costs

Compare

€ 999,-*

* Incl. tax Excl. Shipping costs

Compare

€ 999,-*

* Incl. tax Excl. Shipping costs

Compare

€ 999,-*

* Incl. tax Excl. Shipping costs

Compare

€ 699,-*

* Incl. tax Excl. Shipping costs

Compare

€ 1.599,-*

* Incl. tax Excl. Shipping costs

Compare

€ 1.599,-*

* Incl. tax Excl. Shipping costs

Compare

€ 1.599,-*

* Incl. tax Excl. Shipping costs

Compare

10% discount code: GET10 for pickup in store
Showroom in Düsseldorf
Custom furniture made to measure

€ 1.799,-*

* Incl. tax Excl. Shipping costs

Compare

€ 1.599,-*

* Incl. tax Excl. Shipping costs

Compare

€ 1.299,-*

* Incl. tax Excl. Shipping costs

Compare

€ 1.599,-*

* Incl. tax Excl. Shipping costs

Compare

€ 1.599,-*

* Incl. tax Excl. Shipping costs

Compare

€ 1.399,-*

* Incl. tax Excl. Shipping costs

Compare

€ 1.399,-*

* Incl. tax Excl. Shipping costs

Compare

€ 1.399,-*

* Incl. tax Excl. Shipping costs

Compare

€ 1.399,-*

* Incl. tax Excl. Shipping costs

Compare

€ 999,-*

* Incl. tax Excl. Shipping costs

Compare

€ 1.299,-*

* Incl. tax Excl. Shipping costs

Compare

€ 1.299,-*

* Incl. tax Excl. Shipping costs

Compare