Warehouse Sale
Warehouse sales for Chinese and Asian furniture & accessories in Düsseldorf
Location
Nürnberger Straße 12, Dusseldorf-Reisholz
More than 1000 square meters of exhibition and sales area
Cheap selling prices directly from the manufacturer
Free parking! Generous parking areas - shunting and loading-friendly - available right outside the door
Distance from the city center:
about 10 minutes by car, about 20 minutes by subway
Subway station Am Trippelsberg (U71, U83) in the immediate vicinity
Opening hours:
Monday to Tuesday 10am - 18pm
Wednesdays : closed
Thursday to Friday  10am - 18pm
Saturday: 10am to 16pm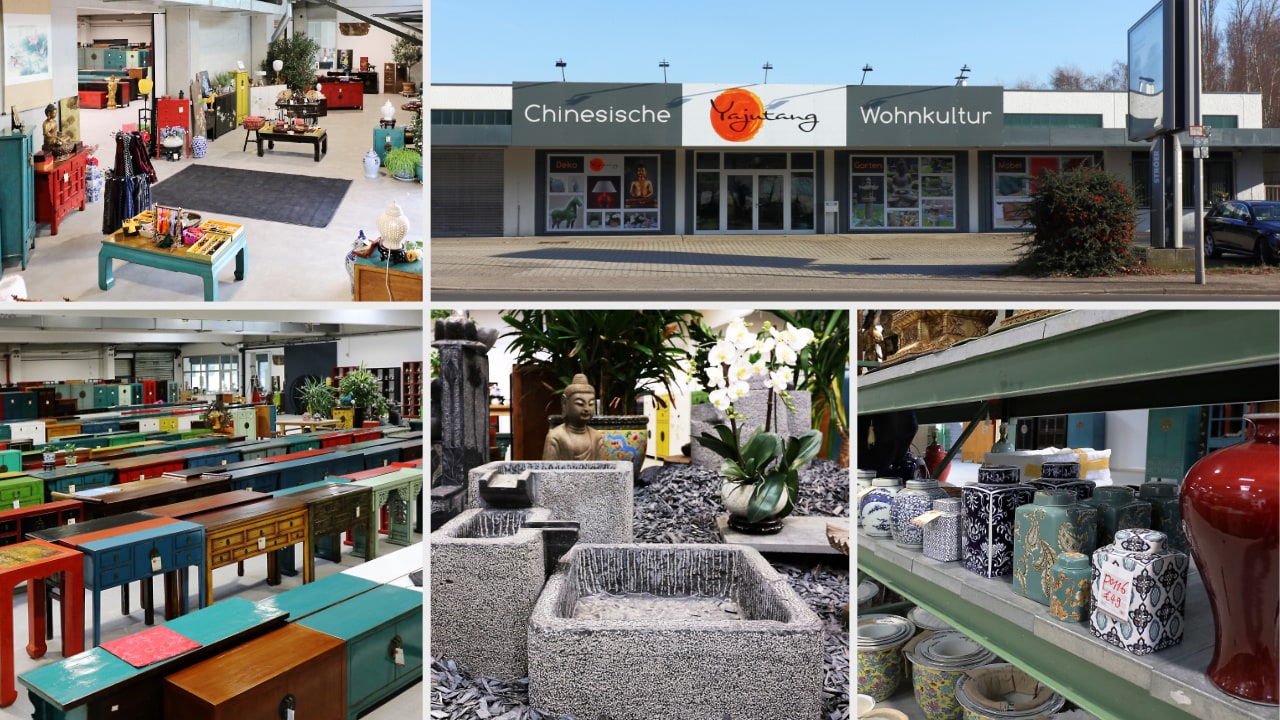 Benefit from our strengths
There are many reasons to buy authentic Chinese solid wood furniture from us, the Yajutang Möbel GmbH in Dusseldorf. In one sentence:
Best quality, large assortment, low prices.
Nobody makes us that fast. After all, the founder was born and grew up in China and has been establishing Chinese living culture in Germany for some 20 years now.
Always well advised
We are happy to provide information about the tradition, origin and production of the various furniture and explain the special features and technical highlights.
If you are also interested in the meaning of Chinese and Tibetan Buddhas, figurines and statues, or wondering what is so unique about vases, table lamps and sculptures made of Chinese porcelain, you are always well advised at Yajutang.
But maybe you just want to stroll a little in a pleasant Asian feel-good atmosphere and browse through small pieces of jewelery in our assortment of accessories and accessories - we promise you: you will not be bored that fast.
Our best argument: we have many arguments
Over 20 years experience
Reproductions from own production
Restoration of up to 100 years old antiques
Furniture according to your measurements and wishes
Cheap manufacturer prices
10% discount for self-collectors
Free shipping throughout Germany
delivery service
Wide range of Chinese accessories and decorations
Large showroom in Dusseldorf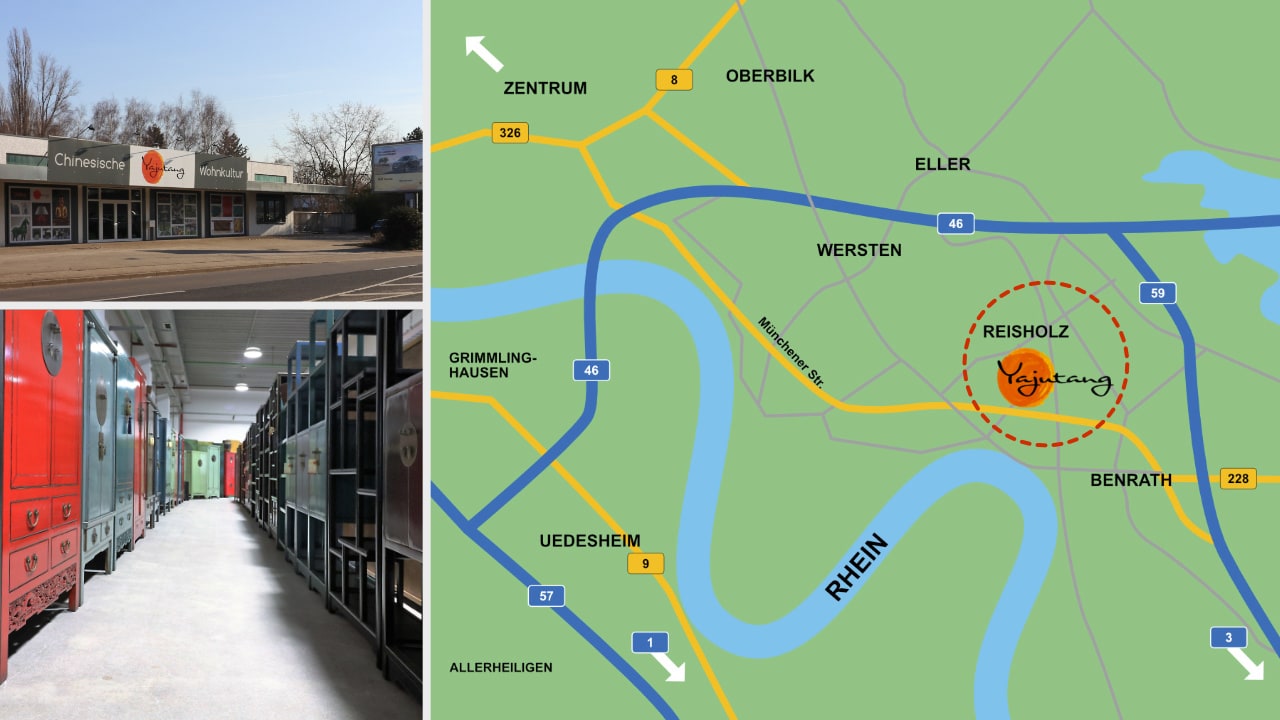 Quality to look at and touch
Yajutang started out as a small, family-run furniture cabinetmaker and today it has remained a family-run furniture cabinetmaker. Only a little bigger. ;)
Our heart beats for Chinese furniture and Asian living ambience. Whether reproduction according to historical model or restored and completely prepared antique furniture - our furniture is characterized by:
Solid wood quality
Loving handwork
authenticity
Best price performance ratio
Whose heart also beats for China and Asia furniture, we invite you to calmly convince yourself of the quality and craftsmanship of fine Chinese wedding cabinets, chests of drawers and sideboards in our showroom in Dusseldorf.
When you browse through our wide range of Chinese small furniture, accessories and decorative items for home and garden, time flies by.
The journey is worthwhile
In our beautiful shop in Dusseldorf prospective customers have the opportunity to take our furniture in peace and quiet and to get expert advice.
Our direct catchment area - we also deliver furniture within a radius of up to 100km - includes the surrounding towns of Neuss, Mönchengladbach, Cologne / Bonn, Essen, Duisburg and the wider Ruhr area.
Regular customers and special lovers of the Chinese and Asian furnishing style take for the purpose of visiting our furniture store but quite clearly also other ways, for example. from Frankfurt, Siegen, Münster, Holland or Belgium.
As part of the online business, our customer base extends to the whole of Germany and the European Union, which is thanks to reliable forwarding partners completely unproblematic.
Real dream furniture - tailor made
If you are looking for custom-made furniture for which your ideas regarding size, color and design details should be taken into consideration, we as the manufacturer offer you all possibilities to flexibly implement these wishes.
You will be amazed at how individual and yet inexpensive we can realize real furniture unique.
We are looking forward to your visit!